In the Beginning…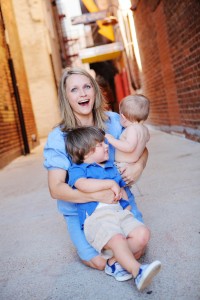 On September 23rd, 2011 Gabe Lewis lost his 28-year-old wife, Lindsay, to pneumonia after a 10-day stint in the hospital. The two were high school sweethearts and had spent the last 13 years together. In 2009 they welcomed their first child, Brody, into this world and in 2010, they welcomed sweet baby Cash.
Through the grief of losing his wife, Gabe began to write and started Part of the Miracle as a blog to share with others in his journey. He began to see the value of sharing and the encouragement that brothers and sisters brought to him and others. As time went on, Part of the Miracle evolved and Gabe's journey began to transform into something he never imagined. Part of the Miracle would soon become what you see today. Today…
In Romans 15: 5-6, Paul says, "May the God who gives endurance and encouragement give you the same attitude of mind toward each other that Christ Jesus had, so that with one mind and one voice you may glorify the God and Father of our Lord Jesus Christ." This is exactly what Part of the Miracle has been for Gabe and those that have followed in his journey. His journey is one of millions, so Part of the Miracle is now ready for all of those that would like to encourage each other just as Christ does, while glorifying our Father.
What to do
Reading:
Navigate through different topics or stick to the ones that reach you. Interact with and encourage those sharing things you relate too.
Writing:
Create your very simple profile. Provide as little or as much information as you feel comfortable with. Start sharing your journey with others by creating posts.
Commenting:
Share your thoughts and encourage other's on their posts. Send direct emails to those that have shared.
Prayer Requests:
Post prayer requests by using the very simple form. Feel free to include links to blogs, Caring Bridge, Facebook Pages, etc.
Follow:
Follow brother's and sister's that share the things you like to read about.
Share:
Share your favorite posts or user profiles on Facebook, Twitter, Tumblr, Caring Bridge, blogs and any of your other social media sites!
Tomorrow
Part of the Miracle is all about sharing content and encouraging others. Yesterday it was a blog, today it is a blog in a social environment, tomorrow it is books, and the day after that, it is receiving faith based content on specific topics for small groups, churches, individuals everywhere!
There is so much to come.
All you have to do is share and always remember to encourage others while glorifying our Heavenly Father!
Website:
The website provides a community for brother's and sister's to share in their journey of life and encourage each other in their walk with Christ.
Books:
Every year Part of the Miracle will publish books written by those that have made an impact on the website, encouraging others and inspiring those to continue their spiritual growth.
The goal will be to publish one book a year from a user chosen by the Part of the Miracle community.
Faith Based Content:
Small groups exist everywhere. Moreover, groups that share in a specific topic of life exist everywhere. It is as simple as getting together at lunch, a friend's home, Church, or in the comfort or your own home.
Part of the Miracle will develop a road map for those groups to be in the Word and relate Christ's teachings to everyday life. Content will be provided in downloadable form in order to reach individuals immediately.